Shopify Product Upload
Shopify Product Upload Services by Shopify specialists for your ecommerce store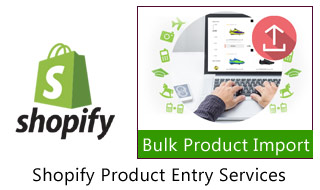 With the clean interface and easy usage, Shopify makes your task of setting up a new store much easier. There is a reason that most of the online retailers use this popular and powerful E-Commerce solution. Since Shopify is a hosted solution, keeping up with domains, purchasing and hosting is not a problem for an owner of small business.
In Shopify product upload services India data solutions sets benchmark with highest standards quality and performance. Our dedicated and trained professionals whose main focus is to help your business expand and grow to the possible heights. Right from electronics, home apparels, baby products to sports, apparel, and luxury watches, our company provide each and every product data entry services. Other than these things, quality is something you need not to worry about as good quality outcome is guaranteed by us.
You often worry about the time consumed in order to populate your online store even if Shopify offers many features to make your work easier. The work turns out to be a mess; tasks are repetitive and indeed very time consuming. Configuring actual web store, uploading pictures as well as editing product descriptions look simple but are not. But look at the bright side, India Data Solutions helps ensure that your work is done without any glitches and you do not have to worry about your precious time.
Our Shopify Product Upload services highlights:
All the information related to product like the selling price, SKU, caption, title, product description, spcial offers, and images will be put in by us only.
We will add all the product attributes, which includes style, color, size, additional cost, SKU number, and more. Universal Product Code (UPC) along with the Manufacturer Part Number (MPN) (something which is required by certain engines in order to publish your products) can also be added as we can custom to meet your needs.
Everything needs to be updated from time to time and so does your product entries. Therefore, our team at India Data Solutions will keep your products updated and will also do necessary changes that are required for the existing products. Mass changes can be made to a certain group of products just by using CSV files that too within a matter of minutes by.
To avoid confusion and easy access for shoppers, your products will be managed categorically for the efficient usage. The categories will further be divided into sub-categories making your product page easy to be found.
If you have any query, feel free to contact us any time as we are available to help and support you 24X7.