Magento Product Data Entry Services
Ecommerce Magento Product Entry Services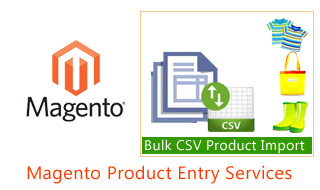 Are you an online retailer, but facing difficulties in the effective management of your online store? Don't you worry as India Data Solutions is here for all your online store management needs at cost effective prices so that you don't have to compromise with the productivity, quality or the turnaround time. Having an expert team in place combined with the young and experienced working professionals, we ensure our clients best and timely services. Our team is capable of handling bulk product entry whether you require thousands or lakhs of products in various magento product categories, like simple, virtual, configurable, bundle, grouped or gift card. The entire process is managed swiftly, accurately, professionally and most importantly without involving any fault.
Read on to know what more India Data Solution does in order to fulfill its clients' needs to perfection
Our team of professionals is adept at handling Magento 2 & 1 platforms of product importing and exporting features. Before we begin on your project, a sound backup of product files is ensured and also the number of products discontinued is evaluated while new or existing products are added to the Magento store.
We are extremely proud of our team as it's a powerhouse of innovative ideas which when combined with latest techniques has the capacity to remarkably execute your Magento Product Data Entry Services along with Bulk Product Import Project.
Our team collects information of all your products in terms of product description, specifications, features, images, options, price, etc. from hard copy files, PDF catalogs, and digital platforms or from any other data sources to systematically place it in product import templates.
Handling Meta descriptions with appropriate Meta keywords.
Suitably organize CSV file template and initiate magento upload in bulk to your online store

However, this is not the end as it requires a host of other services as well, such as magento attribute setting, category product management, template creation, improvement of product pictures, writing unique product descriptions, constantly updating product prices while adopting prudent techniques, such as cross-selling and upselling to considerably boost your revenue coming through your ecommerce portal. We place relevant products at relevant places so that not only people make a purchase of more products, but also buy higher priced products from your store. Helping you increase your business by any means possible is what we aim for.
India Data Solutions offers flexible services based on your requirement, so feel free to contact us via phone, email or skype and we will get back to you in no time.