Ebay Product Data Entry
Ebay Data Entry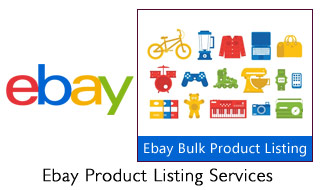 India Data Solutions helps in providing a wide range of premium quality, confidential and accurate eBay products data entry services to suit your pocket. We offer reasonable priced outsourcing services for managing from small to big eBay product data entry list.
As we know that eBay is the leading online marketplace in the world where virtually anyone can purchase, sell or pay online through credit or debit card, the platform is greatly preferred by all the top vendors. It is the most popular digital shopping platform that provides online auctions of products for free. The products range can vary from Fashion, Home & Garden, Motor, Electronics, Toys & Hobbies, Art & Collectibles, Sporting Goods, Clothing (women, men & kids), Gift and much more.
We at India Data Solutions provide you with a team which is thorough with such listing software as Auctiva, Turbo Lister, Blackthorne and Vendio in order to list your items either on auction or at a fixed price on eBay.
Auctiva
Our experienced team is adept at using Auctiva and the associated auction management tools, image hosting, templates and online scheduling ability in order to make sure that your auctions can be easily set up and give you more profitability
Turbo Lister
Our team uses such tools as Turbo Lister in order to create professional looking store listings on eBay and to upload and/or edit various product specifics.
Blackthorne
Our team has also worked on all-in-one software like Blackthorne and makes use of various other tools to create bulk listings on eBay, handle buyer feedback and successfully track sales.
Vendio
Do you wish to list your items on other sites too, such as Amazon along with eBay? Don't you worry as we have the requisite software to make it possible for you! One such example would be Vendio which enables a closely integrated Amazon/eBay inventory management and order management software in addition to a free online store having Facebook access and everything from just ONE interface.
Let's know more about our eBay Product Data Entry Services:
We receive Softcopies/Hardcopies/PDF Catalogs along with the website address of your product manufacturer.
Our expert team analyses these source materials and form a database.
Then the items are uploaded by our team either manually or in bulk depending on our customers' need.
However, before uploading your items our team looks for the competitors listing and then tries to come up with a unique product.
When the new item is created our team adds different information in the item, such as product name, category, description (in HTML format, if needed, images. Shipping information, prices, eBay Policy, etc.
Image editing is also done as and when required because images have to be adjusted as per the standard format of the site.
We at India Data Solutions invite you to buy our services and experience a favorable change in your business in no time!
Contact US
---
India Data Solutions, Inc.
795 Vishwadeep, Tower
Janakpuri District Center, ND 110059
Phone: (91) 8368869216