Graphic Designing
Professional Graphic Designer from India Data Solutions Standout Competences in Graphic Design Services.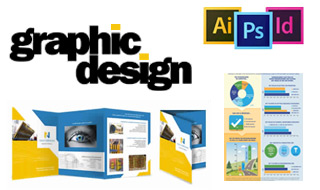 The brand reputation of an organization is probably the most significant strategic asset for business operations. As the adage goes, 'A picture speaks louder than words,' the brand logo or website could be a formidable representative of the company or its products. Graphic design services imply towards the use of art for creative representation of the marketing efforts of an organization. The present era of digital marketing which is substantially characterized by the prominence of visual content requires innovative graphics for different forms of communication or advertisement of a brand.
Overview of Our Graphic Design Service
India Data Solutions is a prolific response to your graphic designing troubles as we are capable of delivering sophisticated services in graphic designing catering to the diverse needs of the business of clients. We can leverage our comprehensive experience in the domain of graphic designing for providing clients with spectacular and relevant graphic designs.
These designs can be utilized promisingly for improving the corporate image of a brand throughout various communication channels. Our way of working as a graphic design agency is also aligned with the objective of catering all requirements of clients within the minimum time span possible.
We strive consistently to offer various design services including image vectorization, illustrations, desktop publications and layout designs within 24 hours. The time for submitting the completed design could also vary by specific design requirements presented by clients.
Types of Graphic Designing Services
We, at India Data Solutions, invest ample efforts in translating the ideas presented by clients into innovative graphics that enable us to provide high-quality outputs to our clients. Rather than relying on conventional creativity, we employ custom graphic designing that presents the substantial advantage to clients. Here is a list of the different types of services in graphic designing offered by us.
Website designs.
Banner designs.
Advertisement designs.
Animated logo design.
Designing logos.
Catalog and brochure designs.
3D graphics design.
Business Card designing.
Another interesting fact that you would find when you hire graphic designer services at India Data Solutions is the provision of corporate identity campaigns and company branding initiatives. We facilitate comprehensive marketing designer packages as well as business-starter packages that can be promising entities, especially for small businesses and start-ups.
Why India Data Solutions for Graphic Designing?
Upon evaluation of the information stated above, it might have been observed that our abilities in graphic designing are comprehensive as well as promising for every type of business. However, we would also like to appeal to readers to take a tour of some of the advantages of the services offered by us.
Implementation of the updated graphics designing software such as Freehand, Photoshop, CorelDraw and Adobe Illustrator.
Facility of integrated graphic design services in unison with web design and development.
Affordable pricing of graphic designs owing to cost competitive pricing.
The limited time span for delivery of completed designs allow advantageous edge over competitors.
The expertise of various skilled graphic designers implemented in all projects for accomplishing exclusive outcomes.
Various clients have commended the professional graphic design services provided by India Data Solutions throughout the world. We can improve the variety and comprehensiveness in our services by capitalizing on a competent workforce of graphic designers. We also strive to be consistently updated with the existing and emerging trends in graphic designing for providing just the right graphic design solutions to our clients.
If you have any queries regarding our services or want additional information on our services in graphic design, India Data Solutions is just a call or a click away from you!
---
India Data Solutions, Inc.
795 Vishwadeep, Tower
Janakpuri District Center, ND 110059
Phone: (91) 8368869216