Virtual Assistant Services
Easier Dispatch Of Workload with Virtual Assistants by India Data Solutions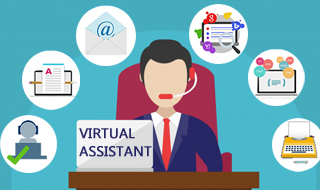 India Data Solutions serves as the secret roadway that leads to success for organizations and entrepreneurs. When it comes to segregated maintenance of work and life, we help with allowing you a bigger time frame for focusing on your business while taking care of mini business details such as paying bills, scheduling meetings, as well as travel bookings. As a client of India Data Solutions, you get smart and highly trained professionals for virtual assistant services who work on a remote basis for your requirements while you delegate the tasks to be completed at the right time.
How Do We Work?
At India Data Solutions, we hire the detail-oriented virtual assistant freelancers that go through a multi-step process for testing out the skills as well as communication to bring forth the best talent for you to hire a virtual assistant. Every day, we receive thousands of applications, but only the best ones get to work with us.

Types of Virtual Assistant Services
Our virtual assistants are trained to complete various tasks such as:
Presentations / Spreadsheets Creation
Email Management
Graphic Desing.
Research and Reports.
Planning and scheduling
Data entry and management
Travel Booking.
Social Media.
Invoicing and Expensing.
Personal Tasks.
And many such services as required by your organization.
Why Choose Us For Your Virtual Assistant Requirements?

Picking our team for your requirements for a virtual team or individual caters you the following benefits for the business that include features such as:
Trained team with years of experience.
Timely work delivery.
Cost-effective solutions.
Customized services that are completely tailored to the needs of the clients.
Efficient and connective communication with the team.
Benefits of Virtual Assistant for Your Business

Virtual assistant companies generally outsource the work without actually testing the capabilities of the freelancers which ultimately results in issues with work protocol leading to delays in project delivery. At India Data Solutions, we work together with a team that is always tested for various skills to ensure that projects are completed with perfection promptly.
Outsourcing your project requirements to us provides you with the following benefits:
Better opportunity to focus on other aspects of the business you own.
Reduced capital investment as opposed to hiring an on-field team.
Utilize your current staff in a more efficient pattern.
Eliminate the hassles of hiring new employees for full-time requirements.
No need for any training protocol as the virtual assistants are skilled and experienced freelancers.
---
India Data Solutions, Inc.
795 Vishwadeep, Tower
Janakpuri District Center, ND 110059
Phone: (91) 8368869216